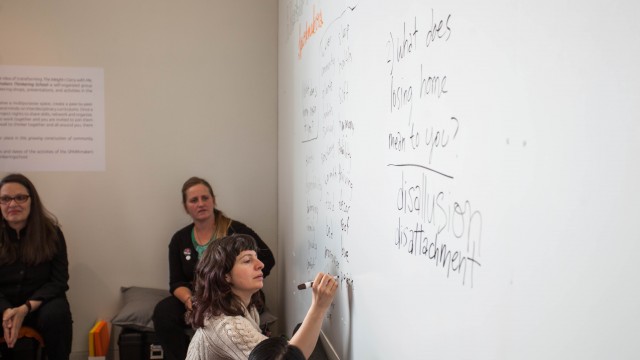 JUNE 2015 – More (Free) Thinkering Activities..!
June 2015 – (Free Thinkering Activities)
On the Power of Our Stories
TUE – June 2 / 1-3PM & 6-8PM:
Drop-in Clinic: D.I.Y. Comics & Zines!
Do you have an idea for a comic-strip or story? Do you know how it works? — In this 3 hours drop-in- clinic, visual artist Christine Villanueva will introduce you to how to quickly integrate texts and comics in sequences, and, how to self-published your very own mini zines. Paper and materials will be provided for your inspiration!
Facilitator: Christine Villanueva
Note: This is also the FIRST Free Tuesday at YBCA.
THURSDAYS – June 4 – July 16 / 3-5pm:

Interactive Performance Workshop
The Healing Arts Collective invites you to participate in a free 7-week interactive performance workshop series led by local artists, writers and performance artists which will culminate into a final public performance.Using dance, theater, and writing, attendees will be asked to consider their personal concept of "home, displacement and community healing" into a shared story.
Who could participate? Anyone who have either been displaced or affected by displacement and the disappearance of public spaces in San Francisco Bay Area or some place else.
Are you interested? Do you have any questions? RVSP the artists here!
Facilitator: Healing Arts Collective / Ivy Jeanne McClelland (multi-disciplinary artist and public health activist) + Collaborators
THUR – June 18 / 5-8pm:
Thinkering Project Night N.3
Come share your projects and join us at this 3rd exciting evening of informal hand-on activities and networking. Just bring your tools, projects and ideas... Wifi, light refreshments and food will be available!
What is a Thinkering Project Night?
Facilitator: members of the SPARKmakers Thinkering School
THUR – June 25 / 5-8pm:
Drop-in Clinic: WordPress for Creatives & Activists!
Do you have a WP website on your server or through WordPress.com? Would you like to know how to use it for your creative and/or social justice projects? In this three hours drop-in clinic and group-based thinkering-shop, we will explore basic techniques on how to organize your materials, conceptualize the look and general functions of your website, and introduce you to how to use WP as a content management system (CMS).
Facilitator: Studio CNS +
FRI – June 26 / 3-5PM & 5:30-7:30PM:
Play with Us: Unfold your Story
Learn to design, play, and tell your story of home through the use of large origami fortune tellers or cootie catchers. Drawn from their magnificent giant cootie catchers that unfurl stories of the San Francisco's Potrero neighborhood, Connell and Melera will demonstrate how to design these unique large-scale paper structures to unfold complex stories of place and home. So, bring your stories, pictures and images of your place, your home, and be ready to play together at the end of the workshop. Other materials and basic tools will be provided.
Are you interested? Do you have any questions? RVSP the artists here!
Facilitators: Book and Wheel Works (aka Kate Connell and Oscar Melara) + collaborator Alisa Messer
[Sustaining Place Series: Workshop-2]