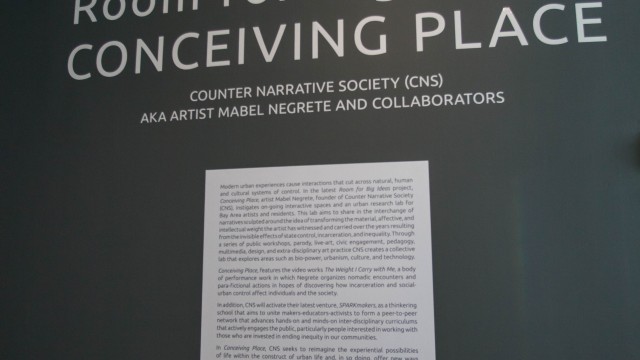 YBCA – Room for Big Ideas: CONCEIVING PLACE
YBCA – Room for Big Ideas: CONCEIVING PLACE
With the Counter Narrative Society (CNS)
(aka Mabel Negrete + Collaborators) Front Door Gallery
Free admission
701 Mission Street, CA 94103
From May 1st though August 16th, 2015
CONCEIVING PLACE is an exhibition, research lab and series of public workshops that help us understand the influence of mass incarceration on our neighborhoods, and how to reclaim urban life from the "invisible punishing machine"—a conceptualization of the spatial and technological causes of inequality.
Curator's Initial Statement:
In the latest Room for Big Ideas Project, Conceiving Place, Counter Narrative Society and collaborators transform the ongoing project, The Weight I Carry with Me, into an urban research lab inside the Front Door Gallery at YBCA. Artist Mabel Negrete, the founder of Counter Narrative Society (CNS), works as a multi-disciplinary artist exploring counter narratives about bio-power, urbanism, culture, and technology. Her project The Weight I Carry with Me is a reaction to the invisible punishing machine, an idiomatic, science fiction-esque research concentration she designed to examine the spatial and technological causes that produce inequality and invisible punishment — a consequence of mass imprisonment, political persecution of individuals, the prison-welfare system, urbanization, neoliberal policies, and social-urban control in the USA.
In The Weight I Carry with Me, Negrete organizes nomadic encounters and para-fictional actions in hopes of discovering how invisible punishment, alienation, and social-urban control in the terrain of the USA have affected herself, family, friends, and the community at large who suffer the invisible effects of state control, mass incarceration, and inequality. She seeks to study, witness, and confront the invisible punishing machine that resides deep inside of her, and of all of our, bodies.
Conceiving Place at YBCA aims to take those weights and transform them into a communal, shared work. The audience will have their own space in the Front Door Gallery, where the Conceiving Place will take the form of an ever-evolving visual installation featuring social sculpture elements, info-graphics, workstations, ephemera, and displays. The gallery will change frequently with whole new sets of workshops, opportunities, and experiences, so be sure to keep on coming back.
From Katya Min RIB: Conceiving Place – Read more on Facebook